Nature and hiking routes
Would you like to see more of the area and have some movement and action in addition to the sun, sea and beach? Besides the Andalusian gastronomy and culture, there is a lot to experience in the surrounding nature. Nothing is more fun than a day of hiking through the mountains that are located along the Costa del Sol! Below are a number of beautiful walking routes that Costa del Sol has to offer.
1. Caminito del Rey.
One of the most famous in Málaga is Caminito del Rey or also called 'King's path'. This is located in the heart of El Chorro, and therefore a little inland from the Costa del Sol. This spectacular route is approximately 8 kilometers long, takes an average of 3 hours and passes through gorges, ravines and a large valley. Until its renovation in 2015, this route was quite adventurous. Previously it was not in such a good condition, so there was a lot of danger. Now the route has been completely overhauled and safety is extremely guaranteed! Caminito del Rey was originally constructed in 1901 and served to transport personnel and goods for the construction of power plants between Choro Falls and Gaitanejo Falls. In addition, the name 'king's path' came about after the then King Alfons XIII of Spain used the path in 1921 when the finished dam was inaugurated. This route leads you along a beautiful natural phenomenon. The gorge you see is considered to be the bottom of the sea. Here, millions of years ago, the earth was torn apart by an earthquake, pushing the ground up by colliding plates. Because this route is not circular, you can walk here from the north to the south and you can take a shuttle bus on arrival that will take you back to the starting point. In the past, the path could be walked in 2 directions, but due to the great popularity and crowds, walkers got in each other's way too much.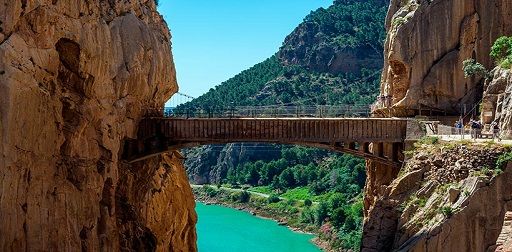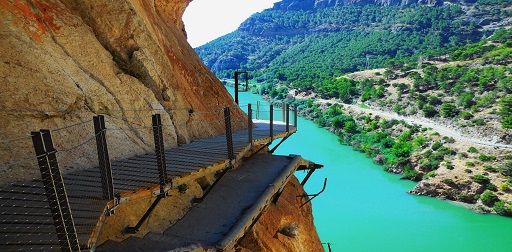 2. La Escalera Arabe.
Another good reason to go to El Chorro is La Escalera Árabe. This is an 11-kilometer route of limestone steps that are miraculously well preserved, dating back to before 1500. The way up does take some effort, but once at the top it is well worth it. Good equipment is important for this route. It can be taken all year round, but you should avoid the hot summer months. The Arabian steps form a circular route that is covered at an average pace between 4 and 5 hours. As with all hiking routes, caution is important, but you can certainly make this a family hike, as it is suitable for hikers of all levels. El Chorro is easily accessible through the train station. This is the starting point for many fine walking and cycling routes and it is also only 40 kilometers from Málaga.
3. Mulhacen.
Would you rather take nice hiking routes higher up in Málaga? Then Mulhacén is a good option, because this is the highest mountain peak on the Iberian peninsula. This climb leads you to the highest point of the Sierra Nevada and is a true hiking experience. The route is part of a multi-day hike through the Sierra Nevada and is spread over several days. As a result, many hikers spend the night in one of the surrounding hotels such as in Trevelez or in Refugiodel Poqueira, these are often a last stop before you reach the top. The tour can be quite intense depending on the weather conditions. This way you can put them down in the snow and you should also take into account that the weather can change quickly. So make sure that you are well prepared for this. On the other hand, reaching the top is a really great experience!
4. Rio Chillar in Nerja.
A very refreshing walking route in Málaga is walking through el Río Chillar in Nerja. You walk between the beautiful rock gorges and you can refresh yourself with the water throughout the route. You can make the trip as long as you want, and it becomes more difficult depending on the water level. In the first part you will cross over, but after that you have to go into the water anyway to continue. Here and there there are rapids and waterfalls, where you can stop and sunbathe. The route in Río Chillar is a nice sporty walking route that is also suitable for children! It is important to provide you with sturdy shoes that can get wet, in order to cover the route as smoothly as possible. The great thing about this route is that you can also take it in the hottest part of the day and enjoy sufficient cooling. Also always check the weather, because heavy rainfall can make it possible that the water is too high and it is too difficult to complete the tour.
5. La Concha.
La Concha is a mountain peak in Sierra Blanca that is perfect for climbing. This provides an extra fun walking route in Málaga. The great thing about this route is that you can enjoy panoramic views over Marbella and its surroundings. The sea seems so close from here that you would be tempted to refresh yourself in it! The route to el Pico de La Concha can be started in Marbella, Istán or in Ojén at el Refugio de Juanar. This can be done perfectly without being a trained hiker, but as you get closer to the top you have to pay attention now and then. Here and there there are points where extra chains are attached for safety and you sometimes walk along very deep canyons. It is therefore best not to take this route alone. With this route you walk 6 kilometers there and 6 kilometers back and there is a difference in height of about 600 meters.
6. El Torcal de Antequera.
If you want to enjoy a beautiful environment that is richly filled with fauna and flora, you can walk in El Torcal de Antequera. This is a breath taking natural park with towering limestone cliffs that once lay beneath the sea. The rocks give the feeling that you are walking in another era, namely prehistoric times. This nature park has been open since 1978 and you will also find many animals. The ibex is about the best known and you will certainly encounter it during your visit. In addition, there are also many (predatory) birds, reptiles and foxes. There are several nice walking routes that you can take, one of 1.5 km, one of 3 km and the longest of 4.5 km. The latter is only possible with the presence of a guide. These routes are therefore not very long in distance, but there is some climbing and scrambling involved. Also for this route you should provide good walking shoes and the weather also plays a role in the degree of difficulty. If it has rained just before, it will make the road a bit slippery and muddy. For the experienced hikers there is of course no reason not to visit it! This park is located an hour from Málaga and is very easy to reach from the Costa del Sol.
7. Los Reales de Sierra Bermeja.
Los Reales de Sierra Bermeja is another green natural park that dominates the Costa del Sol from Marbella to Estepona. The mountain range has an average height of about 1000 meters with the highest point being the top of Los Reales at 1450 meters. From the footpath that runs through the beautiful spruce forest, you can spot a lot of flora such as juniper berries and kermes oak. Nice fauna species are mountain goats, deer and various species of birds of prey. For this route, we recommend to go there on sunny and clear days, because this way you will be able to observe the best views. In addition, you do not have to worry about too hot temperatures, because the spruce forest will provide enough cooling. Also useful with this route is that you can decide for yourself how long you make it. You can drive to the beginning of the park and then walk 5 km to the top, or you can park further away and only cover the last 1.5 km. On the way, on foot or by car, you can always enjoy beautiful views.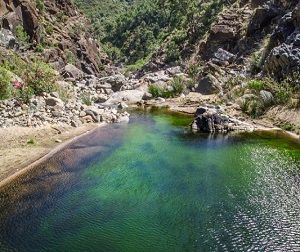 8. Ruta de las Angosturas del Rio.
Can't get enough of refreshing walks on hot summer days? Then Ruta de las Angosturas del río Guadalmina is also a nice walking route for you in Málaga. This route, which is approximately 3 kilometers long, is located near Benahavís and can be completed in 2.5 hours with an average difficulty level. Here too you will have to enter the water, so waterproof bags are indispensable in this case. The starting point of the route is El Charco de las Mozas. Here you will notice that you cannot escape the water, because you start the route along a slide or, for the more daring, via a rock jump. Along the route you can enjoy the beautiful natural landscape characterized by high rocks. You don't need to be an expert swimmer to take this route, as there are very few deep zones. In the summer it is very pleasant to stay here, but in the autumn and winter months it is best to check the temperature of the water. It can cool down enormously due to the lack of sunlight between the rocks.
9. Benaojan to Ronda.
On the border with el Parque Natural de la Sierra de Grazalema, lies the village of Benaoján. From here you can walk to Ronda and return by train or take a circular route to get back to the starting point. The linear route is about 11 kilometers long and has an average difficulty. When you leave Benaoján, the beautiful cliffs of Ronda will come closer and closer. Ronda itself is situated at the top of the cliffs, about 2500 meters above sea level. You may wonder why it was built at such a height, but that has to do with its turbulent history. The cliffs then served as a natural defense. Throughout the walk there are many climbs and descents, but each time with beautiful rural views. This walk is definitely worth doing! In addition, it can be perfectly combined with a visit to Ronda. For example, visit la Plaza de Toros bullring, pass by la Plaza de España or admire the view over the breathtaking gorge el Tajo.
10. Gran Senda de Malaga.
Can't get enough of hiking? Then definitely check out the Gran Senda that runs through the entire province of Málaga. This is a fantastic circular route of 650 kilometers that meanders through beautiful nature. It is divided into 35 stages that are worth every bit of progress. And 17 of the 35 stages can also be explored by mountain bike or horse. You will also come across 51 villages and towns, 4 national parks, 2 nature reserves and 3 nature parks along this route.